As parents, how many times have you wished that a day had more than 24 hours? "I am free" said no mom ever! As moms, we are always short of time. Juggling with the kid, household chores, work and family, we hardly get any time for ourselves!
Being a mother gives us all sorts of challenges, one of the tougher ones being managing the limited number of hours we get each day! Only after I became a mom did I realize how important time is and the necessity for time management. For a long time, I cribbed about not having the time for anything (I still do!), but over these few years, I have learnt a few ways that do help me manage my time better. So, if you are struggling with managing those 24 hours, read on for a few essential tips on effective time management -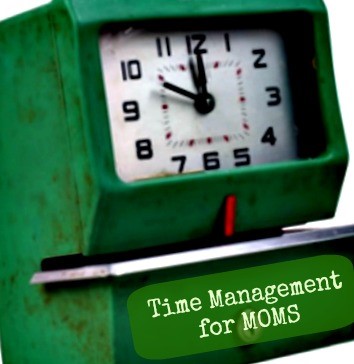 Wake up 10 minutes early – For a long time, I used to wake up with my baby. Kids need all the attention soon as they are up – brush, bath, breakfast etc. This meant I had to compromise on a lot of things for myself, including food! One fine day, I slept early and woke up early, took few minutes off for myself, relaxed and planned for the day ahead. This helped so much, I have been following it since then! So, yes, even if it is tough, wake up a bit early to get some time for yourself. Your day will definitely go smoother!
Use shortcuts - This is a must, especially for working mothers who have to juggle the daily battles of work and home. Cooking takes up a large chunk of our daily activities. Instead of spending a lot of time in the kitchen use smart shortcuts. Chop vegetables the previous night, or even for a week and freeze them! Pre-plan your meals for the week, and shop for groceries accordingly. This will save a lot of hassle.
Be organized - Breakfast is the most important meal, but most often ignored because everyone is in a hurry. Planning ahead again helps. Dosa batter/idli batter can be prepared in bulk and used for the week. One day can be dosas, next day – add veggies to it to make uttapams,next day add jaggery to make sweet pancakes or paddus! Instant mixes like Upma mix, poha mix can be made at home, and stored for few days. For other chores, have reminders set up. Every Wednesday could be laundry day, groceries could be shopped on weekends to save time on weekdays. Bill payments and miscellaneous tasks can be scheduled and reminders kept, so that you are upto date. Following a routine really helps!
Switch off from screen – Social media is very addictive. We tend to use the phone for 5 minutes, and end up scrolling past for way too long! And at the end of the day, you feel you haven't really utilized your time well! So instead, try to limit your screen time and do something you really like – listen to music, read books, anything that will help keep you refreshed!5. Ask for help and delegate - We moms tend to take up a lot on ourselves, and end up being over-burdened. Do not expect yourself to be a know-it-all super mom. Ask for help whenever you need. Having a house help for chores, baby sitter for the kids, or help to run house errands definitely gives you some time to relax and take a breather. Husband can help in chopping veggies, or washing dishes. If he cannot help in the kitchen, he could definitely help in taking care of the kids and their homework!
It is okay to be imperfect - Earlier, when my daughter used to take two naps, I would try to get everything done when she slept. I would time my tasks, right from bath to cooking and cleaning. It made me feel frustrated because I hardly got time for myself! As she grew up, I started dedicating her nap hours for myself. I started engaging her with cooking and chores, so I was free when she slept. If the house is a mess, let it be! The laundry can be sorted later. Take all the time for yourself when the child sleeps. Nap if you feel like, else pursue your hobbies. That will leave you refreshed and energized to resume the rest of the day!
Let everybody help - Let even the children in the household help with the chores. Small tasks like putting clothes into the washing machine, laying the table, dusting can be done by kids too! They will not do a perfect task, but that is still ok. You are engaging them in a positive way, and you get some time off as well!
Learn to say NO – We usually end up taking a lot of tasks in our hands. When our spouses, kids and family ask for things that are beyond our control, it is very fair to say a firm NO or look for alternatives. "Mom, I need my clothes ironed" "Where are my socks" can be turned back to them, to get their stuff done on their own!
Self-care – We are so busy day in and day out taking care of our family – husband, parents, in-laws and kids that we often forget about ourselves. The best way to take care of the family is to first take care of ourselves. Take help from family to get some quality time for yourself. This will help both you and your family in the long run!
Mommies please comment if you liked the tips!